0.2 Working together with groups
TRAX now supports multiple people working on the same project. You can now work together on the new club house layout with your fellow club members. Groups can also be a place to share news, information, pictures and video's. In fact it is sort of a digital club house.
Setting up a group
Choose 'Community > Groups' and click the 'Add Group' button. This will take you to the Group form.

Here, you can choose a category - apart from friends and clubs - groups can also be created to gather with users who are using the same library or who are sharing the same theme. Shops and manufacterers can also create groups to share their information with customers. (no costs, this also is free forever)
Next you set a name and give a description for the group. Tell users what the group is about and who you would like to join.
You can give the group its own look with its own background photo and logo.
And finally, you can set what conext can be shared within the group: events, photo's and video's. This content is posted on the group wall, you can also disable the wall.
Joining a group
Return to 'Community > Groups' and select a category.
In the category, find the group you want to join.
Click the join-button of the group.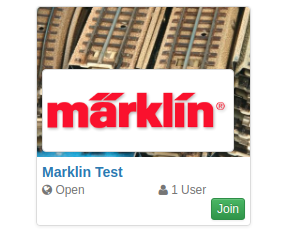 Some groups require the creator to approve new members. Just wait a while and you will receive the confirmation. Other groups let you join directly.
Sharing projects
Now you are a group member, you can share your projects with your fellow group members.
Go to 'My Trax > My Projects'
Choose the project to share and click the cog icon - - to enter the project form.
On the project form, you will find two access fields:

In the dropdown lists you can pick a group you are in to give access, or choose 'Everyone' or 'Nobody'
Giving read access will allow users in the group to visit your projects' presentation page. On the presentation page, people can rate your projects or comment on them. Giving edit access will allow them to open you project in the editor and work on it.
When you open a project in the editor, it will be locked so others can not open it. The locking will be cancelled when you leave the editor.
Locked projects will show a lock in the project list:

If, for any reason, the project is not unlocked, you can unlock it if you are a either the one who locked it or the owner. To free the project, just click the lock icon.