4.2 Scenery objects
Scenery objects are objects that represent buildings, track-side structures or trees and plants. They can be placed anywhere on your layout and rotated in any direction. Scenery objects are scaled to the scale set in your project.

On the scenery tab you will find the scenery object group:




Navigating to the scenery tab will also open the scenery objects side menu - provided the menu switch is turned on: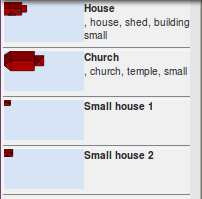 Placing scenery objects

In the scenery object group you will find a dropdown list which holds several categories of objects. Choose one and the corresponding objects will show in the side menu.

To add an object, select it in the side menu and move the mouse in the editor. Note that you now see the object moving with the mouse pointer. Click left to place it where you like.

To move the object, select it and a move handle will show. use the handle to relocate the object.

To rotate the object, double click it. Now a rotation handle will show. Use this to rotate the object.